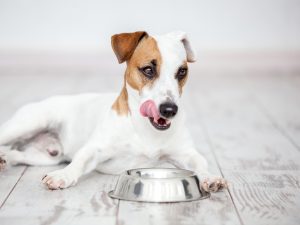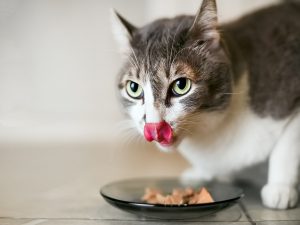 We know life can be tough sometimes and we're here to help keep pets with their families who love them. Through our Pet Food Pantry program, we provide temporary cat and dog food assistance to pet parents in need to help keep their pets fed and healthy, out of shelters, and off the streets.
This program is possible through generous donations from organizations and individuals.
To be eligible for assistance, your family's total household income must be at or below 200% of the federal poverty guidelines or you must have other extraordinary circumstances warranting assistance.
You may complete an application for participation in the program and pick-up pet food at our clinic Monday – Thursday between 9 a.m. and 2 p.m.
Limits: To help more familes, participation is limited to 4 dogs and 4 cats per family.
Please bring with you:
• Your current state or federally issued photo ID
• Proof of household income within the guidelines below or proof of extraordinary circumstances warranting financial assistance.
Income Eligibility Guidelines:
| Household Size | Gross Annual Household Income |
| --- | --- |
| 1 | $27,180 |
| 2 | $36,620 |
| 3 | $46,060 |
| 4 | $55,500 |
| 5 | $64,940 |
| 6 | $74,380 |
| 7 | $83,820 |
| For Each Additional Person Add | $9,440 |
Acceptable Documentation for Proof of Income Latest paycheck stub with YTD Total
Income tax return from last year
Supplemental Security Income (SSI) benefits statement letter
Social Security Disability (SSD) benefits statement letter
Benefits letter for SNAP, WIC, Medicaid or TANF
Unemployment benefits statement
Workers Compensation benefits statement
Section 8 housing voucher
VA Disability Compensation Benefit Statement
Pets in Need Membership Card
Duke Energy statement showing PIPP Plus participation
Client of IHN, YWCA, WCC, Talbert House or other social sevice partner
Surrender Prevention program with partner shelter
Other extraordinary circumstance warranting assistance
Community cat colony caretaker (food is limited to 10 cats per month)